Harry Dickson - The Man in Grey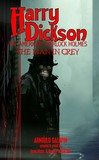 HARRY DICKSON: THE MAN IN GREY
by Arnould Galopin
adapted and retold by J-M. & R. Lofficier
cover by Stephan Martiniere

US$20.95/GBP 12.99
5x8 tpb,224 pages
ISBN-13: 978-1-61227-484-3

Southampton, England, 1910. Jack the Ripper is back -- or is he? A series of ghastly murders are reported near the estate of Lord Beltham. Young detective Harry Dickson is mentored by Sherlock Holmes to take over the most perilous case of his budding career. But neither the Great Detective nor his youthful protégé are as yet aware that someone else is pulling the strings behind the scene: the criminal mastermind known as – Fantômas!

The Man in Grey was first published in France in 1911. It is one of the first Holmesian pastiches ever crafted. Penned by the creator of Doctor Omega, it is now being adapted and retold in English for the first time by Jean-Marc & Randy Lofficier and features a unique crossover between three legendary figures of popular fiction.