About Us
Biographical Information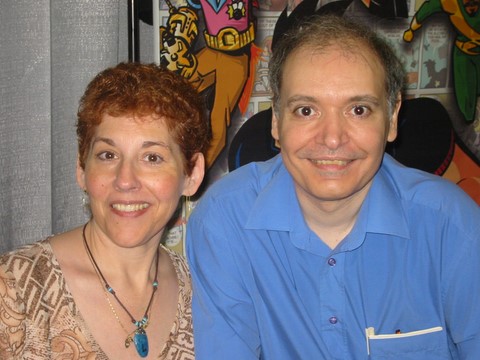 Jean-Marc Lofficier (born in Toulon, France, on June 22, 1954) is a French author of books about films and television programs, as well as numerous comics and translations of a number of animation screenplays. He usually collaborates with his wife, Randy Lofficier (born im Philadelphia, Pennsylvania, on February 3, 1953), and the reason why their credits sometimes read "R.J.M. Lofficier", after the initials of both spouses.
Jean-Marc Lofficier is son of a serviceman, and moved several times during his formative years, spendingparts of his youth in Bordeaux and Fontainebleau. A budding writer from an early age, Lofficier used to draw his own comic strips at ages 13, 14, and began being published in the French SF fanzine Lunatique at 16.
Since writing wasn't deemed a respectable, economically sound way of making a living, Lofficia got a MBA from the ESCP Europe business school in 1978 and a Law degree from the Paris 1 Pantheon-Sorbonne University in 1979, before to work for Barclays Bank in Paris for a year, then Credit Lyonnais in Los Angeles, California, where he met Randy. Jean-Marc and Randy were married in 1979.
Jean-Marc left Credit Lyonnais in 1985 to join Starwatcher Graphics, a new company set up the previous year by French artist Moebius and his wife Claudine, then living in Santa Monica. After Moebius returned to France, Starwatcher Graphics was disbanded in 2000. The Lofficiers then started their own company, Hollywood Comics, which advises and counsels comic book professionals in their dealings with Hollywood.
Jean-Marc and Randy moved to Chalabre, in the Aude, in the South of France, in 2005.
Professional Career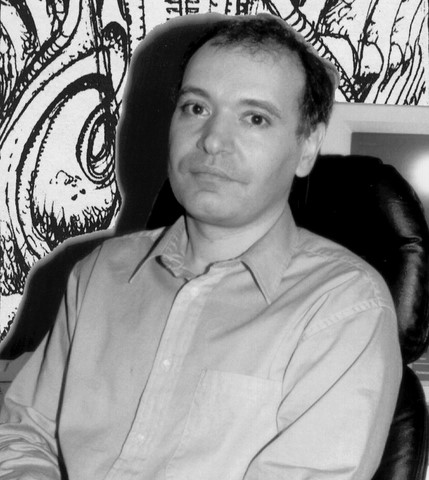 Starting In 1979, the Lofficiers built on Jean-Marc's earlier work for fanzines and French magazines -- including Lunatique and L'Ecran Fantastique in France and House of Hammer in the UK, for which he had written a combination of articles, reviews and short stories -- and began working as film journalists covering the Hollywood-based film industry, and particularly those aspects with a Sci-Fi or Fantasy bent, for a variety of cinema/sf pro magazines.
Their work appeared in such publications as American Cinematographer, Cinefex, The Comics Buyer's Guide, Comics Interview, Comics Scene, Heavy Metal, L'Ecran Fantastique (France), Fangoria, Marvel Age, Movieline, Nemo, Orbites (France), Rock Video, The San Antonio Express-News, Starburst (UK), Starlog, The Twilight Zone Magazine, the United Media Syndicate, Video Times (France), Voyager (UK), and The Weekly Reader.
The Lofficiers' magazine work led them to authoring a number of non-fiction books about film and television programs. Their first - The Doctor Who Programme Guide, published by W. H. Allen Ltd in 1981 - arose from their work for L'Ecran Fantastique. This title in turn led them to publish many other non-fiction books, as well as novelizations and editing various anthologies of science fiction and fantasy short stories.
In 1985, Randy Lofficier completed Harry Love's Animation Writing Seminar at Hanna-Barbera, which led the Lofficiers to write a number of animation scripts for television series such as The Real Ghostbusters, Duck Tales and The Bionic Six. They also began to write numerous scripts for a variety of comic books, often in collaboration with other writers, notably Roy Thomas, Marv Wolfman and Len Wein, for both Marvel Comics and DC Comics. as well as other publisjhers such as Topps, Malibu, etc. Their best-known works include a trilogy of DC Elseworlds based on German Expressionism cinema, the Book of the Vishanti feature for Doctor Strange, two stories for Clive Barker's Hellraiser, and the Tongue*Lash series for Dark Horse Comics.
In 1985, the Lofficiers were hired by Moebius to translate and arrange for the publication of his works in English. This led to a series of 30+ graphic novels published mostly by Epic Comics until 1995. During that time, the Lofficiers also translated numerous French comics for Dark Horse Comics, co-editing their comic Cheval Noir, and for Renegade Press, co-editing their comic French Ice, featuring the series Carmen Cru by French artist Jean-Marc Lelong. In 1990, in recognition of their career as writers, translators and editors, the Lofficiers were presented with the Inkpot Award for Outstanding Achievement in Comic Arts.
From 2000 to 2003, Jean-Marc Lofficier was editor and senior writer of a line of French comic books published by the successor to Editions Lug, once ther 5th largest publisher of Frencbh newstand comics, stasrted in 1950. Jean-Marc redeveloped a number of old characters such as Wampus, Kabur, Phenix, Homicron, Dragut and Dick Demon into more modern versions, even gathering a number of them in the series Strangers, also published in the US by Image Comics in 2003. Also for the French comic market, the Lofficiers wrote a trilogy of graphic novels based on the character of Robur created by Jules Verne. Illustrated by Gil Formosa, the first two volumes were nominated for the 2005 Jules Verne Award fanf they were published in English in Heavy Metal.
In 2003, the Lofficiers created their own small press, Black Coat Press, to translate and publish classics of French pulp literature into English, relying in part on the output of British writer/translator Brian Stableford. In 2005, after moving to France, they started another small press, Rivière Blanche, to publish French science fiction novels in the nostalgic style of the long-defunct Anticipation imprint of Editions Fleuve Noir. In 2010, they created Hexagon Comics to reprint the "classic" stories from Editions Lug in a series of black & white trade paperbacks, as well as write new stories, relaunching Strangers. Since that date, Jean-Marc has been editor-in-chief of Hexagon Comics.
Testimonials
"The most enlightening reference book of the year... It almost goes without saying, therefore, that Jean-Marc and Randy Lofficier's hugely ambitious tome fills a sizable gap in SF and fantasy scholarship... The volume is in general worthy of its lofty goals, and I only hope that it can find and audience beyond the rather small number of scholars who specialize in French SF... The historical essays are both solidly researched, informative, and clearly written, and collectively, they constitute a pretty comprehensive history of the French fantastic... After reading the essays that make up the historical meat of the book -- and this is a book more to be read than consulted -- one comes away convinced that, in the French tradition, it's a central way of looking at life -- and a way that has perhaps never before been so clearly delineated in English."


Gary K. Wolfe in Locus about the Lofficiers' French Science Fiction
"I am very sorry to hear that Starwatcher Graphics has been dissolved. It was a great asset having someone of your caliber manage Moebius' work."
George Lucas in a letter to Jean-Marc Lofficier
Marvello - This episode was definitely a creepy one! - Zedd - It was a really good episode, and it's nice to see someone challenge Peter! - rgbgirl88 - A wonderful twist, with some pretty funny stuff... - thickets - A nice spin on an old classic. - Dr. Stantz - I loved the Legend of Sleepy Hollow as a kid and this is a good version of it. A must see. - Kain - I love this Headless horseman legend, and this was a nice version of it. Actually I found this episode really scary when I watched it years ago... - Agent D - I love this episode so much. The updating of the Headless Horsemen legend is so cool. - Big_Daddy1975 - I really enjoyed this one. It was eps. that were dark and mysterious like this that I missed after they stopped writing for syndication. - GBix - Another episode in the classics vault. A great story/spin-off of another great old tale. A lot of good stuff here. - boechsner - Always been one of the most memorable episodes for me. A great story. - Ghostbuster4evr - One of the best. - back - One of the best of the best! - Ray_Stansz_amsa -Excellent, the episode was very funny!!! - Johannes - Really well done episode.
reviews of THE HEADLESS MOTORCYCLIST and THE GHOSTBUSTERS IN PARIS quoted on the ghostbusters.net fan site
Interviews