Witchblade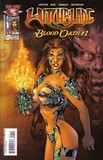 WITCHBLADE: BLOOD OATH (Top Cow, 2004)
Story by JM & R Lofficier; Art by Stephane Roux; Colors by Karine Boccanfuso.
This 44-page special brings together WITCHBLADE with PHENIX and SIBILLA.

What do a renegade biologist, an elusive serial killer, and the mystery of Joan of Arc have in common? Separate investigations into New York's latest crime spree bring WITCHBLADE, New York's finest, in conflict with the indomitable PHENIX, and expose a long-buried secret from the bloodiest pages of French history.