Alone in the Dark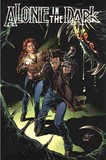 "Life is a Hideous Thing"
Story by Lofficier; Art by Matt Haley & Aleksi Briclot.
-- Image Comics, Sept. 2002

ALONE IN THE DARK is based on the INFOGRAMES electronic game. The story takes places just before the ALONE IN THE DARK IV game. It stars paranormal investigator Edward CARNBY, accompanied by fearless archeologist Aline CEDRAC, on the trail of a mysterious conspiracy in Tibet.