Barbarella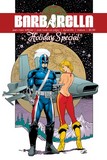 BARNARELLA HOLIDAY SPECIAL.

Barbarella created by, (c) & tm Jean-Claude Forest
Price: $5.99- !SKU: C72513027612401011
Cover: Jose Louis Ruiz Perez
UPC: 725130276124 01011
Writer: Jean-Marc Lofficier
Art: Jose Louis Ruiz Perez

Publication Date: December 2018
Page Count: 48 Pages

Comics legend Jean-Marc Lofficier (Mobius, Doctor Strange) steps aboard the Barbarella Cosmic Express to tell an intergalactic tale of Christmas and...murder?! Helas, c'est vrai! Someone's been given the ultimate gift, and jolly old St. Nick must figure out by whom. Enter the space siren for all holidays, Barbarella! Guest-starring France's Hexagon Comics' super-patriot hero: The Guardian of the Republic.
Barbarella - Hexagon Edition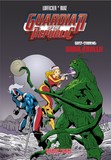 GUARDIAN OF THE REPUBLIC/BARBARELLA COLLECTOR'S EDITION by Jean-Marc Lofficier & José Luis Ruiz Pérez.

Barbarella created by, (c) & tm Jean-Claude Forest

Story: In the future, a series of bloody murders take place on a holiday planet built around the theme of Christmas. Barbarella, and a ressurrected Guardian, must unmask the murderer....

7x10 squarebound comic, 48 pages color
ISBN-13: 978-1-61227-831-5 -US$12.95 / GBP 6.99