The Doctor Who Programme Guide (4th ed.)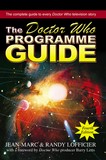 iUniverse, May 2003
Paperback, 247 p., ISBN 0-595-27618-0

The Doctor Who Programme Guide is the complete guide to every Doctor Who story shown on television. The stories are listed in order of broadcasting, starting with the first episode broadcast in 1963. Each entry includes the storyline, the cast list, and the names of the producer, script editor, writer and director, and the details of novelizations, video and audio cassette releases. This indispensable guide first appeared over twenty years ago, and immediately established itself as the single, most important reference work about Doctor Who.
"THE bible to an entire generation of [Doctor Who] fans on both sides of the Atlantic."
—Andrew Pixley, Celestial Toyroom

"A real treat for Doctor Who buffs."
—David McDonnell, Starlog

"It sits invaluably upon every fan's bookshelf and is a constant source of reference."
—Gary Russell, Doctor Who Monthly

"A remarkable work of...dedicated scholarship."
—Barry Letts, Producer, Doctor Who