Despair - The Screenplay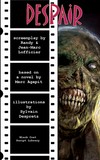 DESPAIR: THE SCREENPLAY by Randy & Jean-Marc Lofficier based on a novel by Marc Agapit; illustrated by Sylvain Despretz;
Black Coat Press, $15.95, 5x8 trade pb, 160 pages. ISBN: 1-932983-06-6.

A macabre horror story based on a classic French horror novel, illustrated by one of the designers of Gladiator.
The tale of a man who survives a car crash, but finds himself trapped in a private clinic at the mercy of its lunatic owner, the terrifying Doctor Despair. The Doctor seeks to use him as a pawn in a monstrous scheme of revenge against the wife who once betrayed him. The hero struggles to save her, but in Doctor Despair's asylum, no one is ever sure of what is a lie and what is the awful truth...

Despair is based on a classic 1959 French horror novel, "La Bête Immonde" by Marc Agapit. The title translates as "The Awful Beast" and refers to jealousy, that green-eyed monster, that gnawing cancer of the heart that can destroy a man's soul.