Arzach - The Novel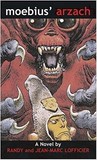 2004: Regular paperback ed., 291 p., ISBN # 0-7434-9299-4

2000: Trade paperback ed., 291 p., ISBN # 0-7434-0015

Novel by Jean-Marc & Randy Lofficier featuring Moebius' character and published by iBOOKS in August, 2000. The book features a cover and inside illustrations by Moebius, and a map by J.O. Ladronn.


Reviewed by UK Editor Rachel A. Hyde

A volume of Moebius' Arzach stories are a welcome addition to the growing number of reissued classics and modern works that make up the Ibooks imprint. With an Ibook, the reader can participate electronically with simple Internet access. Read the books then log on to the virtual readers' group at www.ibooksinc.com to enter discussions with other enthusiasts, leave messages, download chapters, order books at discounted prices and more.

Moebius is an illustrator, real name Jean Giraud. His stories about Arzach, the grim-faced warrior who rides a feathered pterodactyl and sorts out troubles in the fantastic Land of the Morning of Time, originally appeared in French comics from the early 1970s onwards. They were groundbreaking stuff, wonderfully illustrated and originally without words, a revelation for French comic-readers more used to Tin Tin and Asterix.

Drawing on contemporary writers like Jack Vance and Philip Jose Farmer, these stories also recall folklore and Grimm's Fairy Tales among others, with tales of sorcerers and sorceresses, tall towers and dark woods, mortals spirited away by supernatural beings and evil outwitted by cunning and goodness.

Their laconic style with linked episodes, but not necessarily all chapters of the same story, is like a breath of fresh air and a welcome change from modern fantasy novels where fifty words take the place of one. In the second part of the book, we are on slightly more familiar ground as the Gerard family in LA have a toe in our world, seeing the beauties and terrors of the Land of the Morning of Time in a way that recalls modern fantasy. This minor gripe aside, Moebius Arzach is a compelling and original work, wonderfully illustrated with huge appeal. I hope to some day read another volume of tales about Arzach, Charlimpota the jovial wizard and the Pterons. One for the keeper shelf.