Miss Musketeer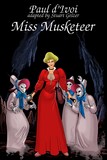 MISS MUSKETEER
novel by Paul d'Ivoi
translated by Stuart Gelzer
cover by Roberto Castro

Introduction by Jean-Marc Lofficier
Bibliography of "Les Voyages Excentriques" by J.-M. Lofficier.
MISS MUSKETEER (Miss Mousqueterr) (1907)

Between 1894 and 1914, Paul d'Ivoi (1856-1915) wrote a series of 21 volumes, collectively entitled The Eccentric Voyages, clearly inspired by and updating Jules Verne's classic Extraordinary Voyages. Miss Musketeer (1907) is the second volume of The Eccentric Voyages to be published by Black Coat Press, after Around the World on Five Sous (1894), the first in the series, with two more volumes planned, in order to illustrate d'Ivoi's not insignificant contribution to the French roman scientifique.