Galaor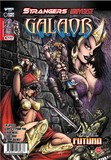 STRANGERS UNIVERSE #4: GALAOR & FUTURA
ISBN 978-1-61227-158-3 - 48 pages couleur - 10 euros
Scenarios: Jean-Marc Lofficier
Dessins: Alfredo Macall; Couleurs: Studio Cirque
L'ILE DES LAMENTATIONS (inédit)
Dessins: Olivier & Stephane Peru; Couleurs: Studio Cirque
GALAOR, GUERRIER DE MÛ
Le puissant Galaor, forcé de trouver abri sur une île sinistre, y découvre Futura, retenue prisonnière par deux sorcières d'outre-espace... En bonus: les origines de Galaor!
Galaor TPB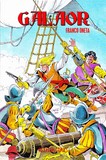 ISBN 978-1-61227-158-3
528 pages
Couverture: Franco Oneta
Préface: Eric Boissau

Galaor de Montbars, Mousquetaire du Roi Louis XIII, est forcé de fuir la France à cause des machinations du sinistre Cardinal de Richelieu. Avec son ami Cahusac, il rejoint les célèbres Frères de la Côte de l'Ile de la Tortue.

Cette prodigieuse saga de capes et d'épée, publiée jadis dans Yuma, est l'une des premières oeuvres du légendaire dessinateur italien Franco Oneta. Egalement repris dans ce volume, trois nouveraux épisodes de Galaor par Alfredo Macall, Stéphane & Oliver Peru et Philippe Xavier.
Magazine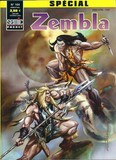 SPECIAL ZEMBLA 164
Cover by Formosa
"Galaor - Guerrier de Mû" (Galaor - Warrior of Mu)
In SPECIAL-ZEMBLA No. 164 (SEMIC, Jan. 2002)
Concept/Supervision by Lofficier; Story & Art by Stephane & Olivier Peru
This new 8-page story tells how Galaor (originally a 17th century freebooter) was transported to Mû, the legendary 5th planet of the Solar system.