The French Fantasy Treasury (Vol. 1)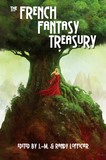 VOLUME 1: THE WORLD'S EDGE
US$32.95/GBP 22.99
5x8 tpb, 428 pages
ISBN-13: 978-1-61227-544-4


This first volume begins in the 11th century when fantasy helped the medieval people to illuminate the fearsome darkness in which they lived. We meet the brave Lancelot and the doomed Knight Roland; we go to war with the Giant King Pantagruel and visit Giphantie, at the World's Edge. In the 16th century, during the Age of Enlightenment, we travel to the Fourth Heaven known to us as Mars, and we wonder at the exploits of the Wing-Men of Mercury. Finally, in the 17th and 18th centuries, we discover how fantasy mutated into fairy tales and Arabian Nights. We rediscover the tale of Beauty and the Beast and meet the Yellow Dwarf; we share the sorrows of the Water Sprites and marvel at the tale of Prince Ahmed and the fairy Paribanou.
CONTENTS:
Introduction
SWORDS & SORCERY
Anon.: The Death of Roland
Chrétien de Troyes: Lancelot and the Damsel
HIGH FANTASY
Marie de France: The Lay of Sir Lanval
AT THE EDGE OF THE WORLD
Rabelais: Pantagruel's War Against the Dipsodes
Fénelon: The Enchanted Ring
Chevalier de Mouhy: The Worm-Men
Tiphaigne de la Roche: Journey to Giphantie
PLANETARY FANTASIES
Chevalier de Béthune: The War Between the Sun and Mercury
Marie-Anne de Roumier Robert: Mars, The Fourth Heaven
FAIRY TALES
Madame d'Aulnoy: The Yellow Dwarf
Jeanne-Marie Leprince de Beaumont: Beauty and the Beast
Marie-Anne de Roumier-Robert: The Water Sprites
ARABIAN NIGHTS
Antoine Galland: The Story of Prince Ahmed and the Fairy Paribanou