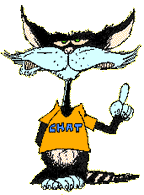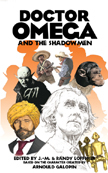 US$ 22.95 /GBP 14.99
5x8 tpb, 292 pages
ISBN-13: 978-1-61227-037-1
Stories by Matthew Baugh, Thom Brannan, G.L. Gick, Travis Hiltz, Olivier Legrand, Serge Lehman, Jean-Marc & Randy Lofficier, Samuel T. Payne, John Peel, Neil Penswick, Dennis E. Power, Chris Roberson and Stuart Shiffman.
This collection presents seventeen new Doctor Omega stories, seven of which never published before. Follow the enigmatic Doctor from the Wild, Wild West to the Vampire City, from Hollywood to Metropolis and beyond, as he encounters a host of other heroes and villains such as Sâr Dubnotal, Nosferatu, Professor Moriarty, Jirel of Joiry, the Bride of Frankenstein and the Three Doctors...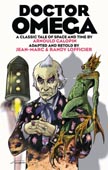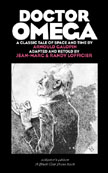 DOCTOR OMEGA: A classic tale of space and time by Arnould Galopin adapted and retold by J-M. & R. Lofficier; Foreword by Terrance Dicks.
Regular Edition: cover by Gil Formosa; 5x8 trade paperback, 240 pages - ISBN: 0-9740711-0-2
Collector's Edition: illustrated by Bouard; 5x8 trade paperback, 260 pages - ISBN: 0-9740711-1-0
France, 1905. In a quiet village of Normandy, amateur violinist Denis Borel becomes acquainted with a mysterious white-haired scientist known only as Doctor Omega, who is building an amazing spacecraft dubbed the Cosmos.
Doctor Omega offers Borel and another Frenchman, the burly Fred, to accompany him on his maiden journey - to Mars!
---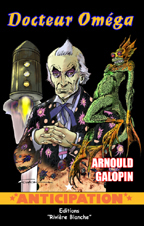 ISBN-10: 1-934543-00-4
ISBN-13: 978-1-934543-00-9
300 pages

- Introduction: Docteur Qui? by Jean-Marc Lofficier
- DOCTEUR OMEGA, by Arnould Galopin
- Préface to the US edition by Terrance Dicks
Short stories:
- Annus Mirabilis by Chris Roberson
- Trois Hommes, Un Martien et Un Couffin by Travis Hiltz
- Le Coeur de la Lune by Matthew Baugh
- Les Melons de Trafalmadore by Serge Lehman


THE DOCTOR WHO DATABANK WEBSITE